THE FÜDE DINNER EXPERIENCE

ALCHEMY OF SELF
IN COLLABORATION WITH
ZOEY GONG

|

OUR PLACE

|

FOUR ONE NINE

|

MOUNTAIN HOUSE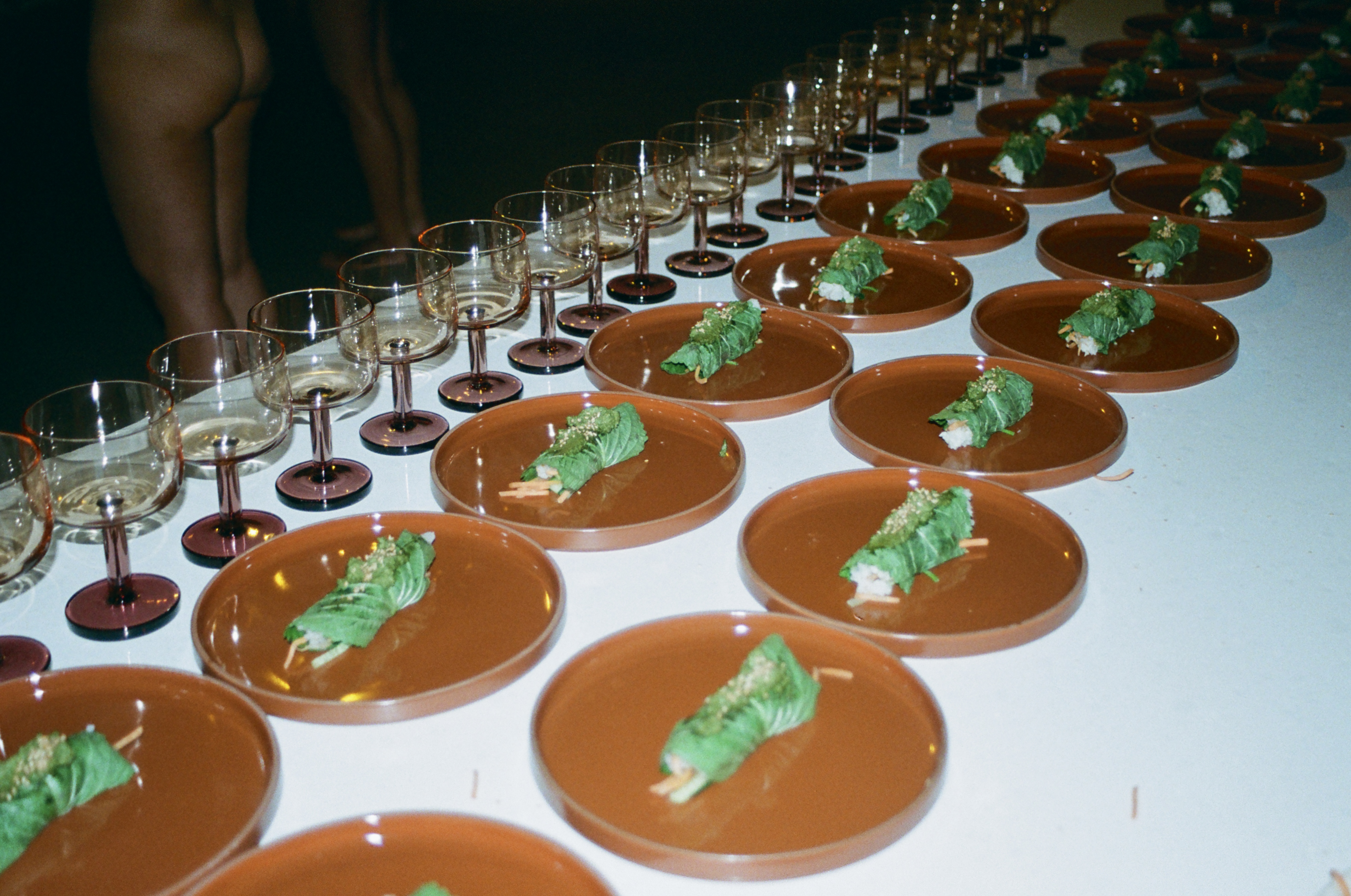 The 'Alchemy of Self' Dinners in San Francisco and Los Angeles, in collaboration with Zoey Gong, R.D., explored wellness from a Traditional Chinese Medicine perspective. With Zoey's guidance, we learned about the five elements and their significance throughout the seasons and within our bodies through Qi Gong and nourishing plant-based recipes using Zoey's cookbook, 'The Five Elements: A Guide to Traditional Chinese Medicine with Recipes for Everyday Healing.'
In Los Angeles, Maya Bachman opened the evening by leading a Five Element meditation and movement session, while in San Francisco, Zoey Gong led a Qi Gong movement session. Qi Gong is a Chinese practice that involves gentle movements, deep breathing, and meditation to cultivate and balance the body's vital energy, known as "Qi." Guests were encouraged to intuitively follow their body's natural movements and rhythms to restore their life forces during these sessions.
Following the movement sessions, Charlie served guests a warm black sesame smoothie, followed by a sesame rice roll with shiso pesto, and then a delicious chestnut mushroom cream soup. The meal concluded with a tantalizing poached pear with tofu cream dessert. All the dishes prepared were from
The Five Elements Cookbook
by Zoey Gong.
As we enjoyed our meal, we had the opportunity to learn about the significance of the intentional ingredients in each dish from a TCM perspective. All the while, lively and animated discussions among guests about grounding, community, and ancient wisdom took place.
The experiences were set in Four One Nine, a stunning creative oasis in the heart in San Francisco, and in the gorgeous Mountain House in Los Angeles. The nights were filled with beauty, authentic human connection, and delicious food, leaving everyone feeling expansive and inspired. We extend our gratitude to
Four One Nine in San Francisco
and
Mountain House in Los Angeles
for sharing their beautiful space with our community.
Below are reflection questions you can ask yourself to further explore the prompt. We invite you to journal your answers and to share with us what comes up for you.
1. In what ways have you personally experienced the flow of Qi and its effects on your physical and emotional state? How can you further cultivate and harness this vital life force in your daily life?
2. What are practices you engage in to achieve balance in your daily life?
Shiso is considered an important herb in TCM and is used for its aromatic, cooling, and medicinal qualities. It is believed to help alleviate various respiratory health ailments such as asthma, colds, and flu. Shiso is also believed to have the ability to regulate the flow of Qi (vital energy) in the body. Qi imbalance is often considered the root cause of various health problems such as food allergies, indigestion, and gastrointestinal discomfort.