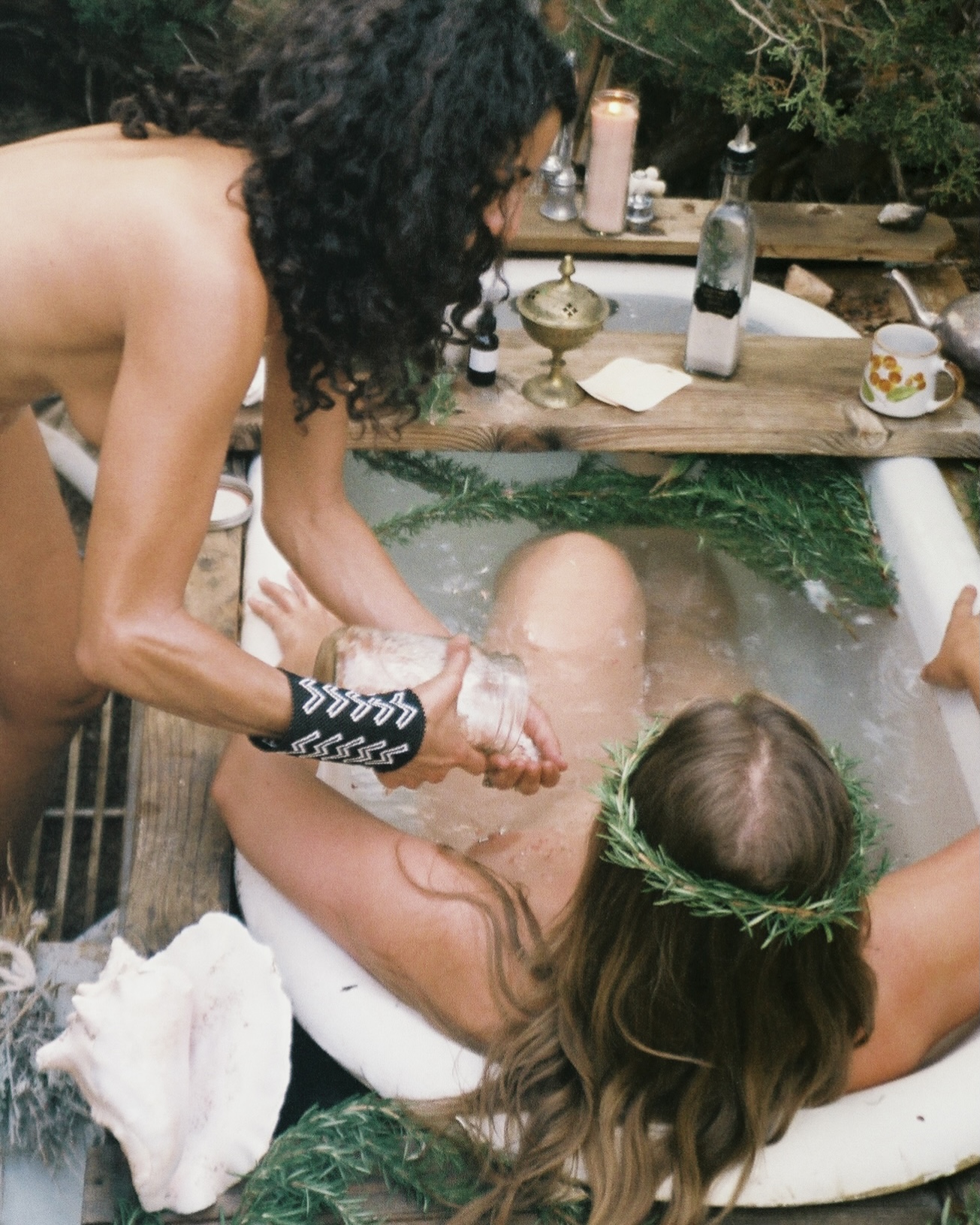 1. Responsibly and consciously harvest rosemary. Rosemary is its most potent when freshly picked while blooming in the morning dew in winter. Ask the plant to provide you with its specific medicine; "Rosemary, I am going to use you in my ally for hydration, bath salts and as your bath companion.

2. Create the contents for your bath. Salts add magnesium to the body and help your adrenal glands.

3. Prepare bathspace. Smudge the space and yourself with sage and rosemary, add a prayer and bathe.

4. Think of all the negative things you want to release from your life. Inside the bath bomb is a crystal. If you don't have a bath bomb, bring a crystal into the bath and spend 1 min. thinking of all your fears. Then, pour in at least 1lb of Epson salts, slowly letting them soak into your body and hands. Add rosemary branches to the bath (you will use these later on).

5. Wash your hair and body with rosemary shampoo.

6. Set your intentions. Start by writing, "For my highest good and the highest good of the universe, please grant me my intentions..."
7. Prepare and apply face mask as if you are a warrior putting on war paint.
Speak and repeat mantra which you create or which is created for you.
8. Strigil and oils.
Rosemary oil attaches and removes dirt from the skin. Scrape off the oil and excess dirt with the strigil to activate body and its oils.
9. Reinvigorate your body with the branches of rosemary that have been soaking in the bath water.
This is similar to a Russian tradition called
Venik
, where you create a broom out of birch, oak, or eucalyptus leaves to wake up your body and pass on the medicinal oils from the branches after being soaked in warm water. Hit each part of your body once or twice with the branches to invigorate, regenerate and ease soreness.
10. Moisturize and give thanks for your life, the bath and the plant allies that supported you.
Learn more about the benefits of rosemary from Sophia Loukaides,
here.